*** AVERTISSEMENT : Cette chronique contient plusieurs injures, mots douteux et comporte des sous entendus sexistes et des propos d'alcooliques. Cette chronique n'est donc que pour les PUTAINS DE METALLEUX ! Les posers, batards, baltringues, chieurs et autres baratineurs n'ont pas leur place ici. Merci. ***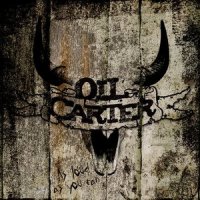 Putain mais comment ils sont bons ! Mais qu'est ce qu'ils sont bons ces putains de Oil Carter, putain ! Et dire que j'ai douté ! Putain ! Dire que, longtemps, les seuls échos de l'album que j'ai eut étaient mauvais ! Mais évidemment, y'a toujours des gens qui n'aiment pas voir leur groupe fétiche évoluer, parce que OUI, les OIL CARTER, en plus d'avoir mis la barre très haut sur la démo « Something Start Here » ont mis un point d'honneur à faire évoluer leur musique. Et cela passe par une priorité absolue : le son.
Alors oui, nombreux sont ceux qui, charmés par le son craspec de la démo, un son qui tachait le jean's, qui laissait les mains poisseuses de cambouis, d'alcool et d'autres matières non déterminées mais qui sentaient l'homme, se sont détournés de l'album des Sudistes. En effet, sur ce « Loud As You Can », le son est moins crade et sonne moins garage, mais gagne nettement en netteté, en compréhension et en qualité. Un peu comme si on comparait le premier opus des Down et l'énorme « Over the Under ». Ouais, je tape haut dans la comparaison mais ça se tient mon truc.
Tiens je me tape une Killkenny pour le coup. Slurp.
A l'image de sa cover, la musique des OIL CARTER est donc sortie du garage de Tatie Marcelle est vise le grand air du Sud. Avec un S majuscule parce qu'on est des hommes, putain, et que le Grand Sudiste Tueur de Mode n'est jamais trop loin. Avec la pression qu'ils se payaient, vu la qualité de leur démo, les OIL CARTER n'ont rien lachés, pas un putain de centimètre de terrain à la qualité de leur musique, donc, mais aussi de leurs compos.
Si les classiques « Something Start Here », « Volcanic Girl », « Whiskey Takes My Soul » et surtout le toujours aussi énorme et maitrisé « The Bitch Along The Highway » qu'on trouvait déjà sur la démo répondent présents, les nouveaux titres, que ce soit « Raising » qui envois grave du bois, le groovy « Billy Brown » qui balance bien ou encore les énormes « Did My Grave » et « Owner Of Your Life », lourds à souhait et nerveux, sont tous dans l'exacte lignée de ce qu'on attendait du groupe, en mieux et en plus puissant cependant. Difficile pourtant pour eux de tenir cet enjeu, tant, je me répète, la démo était énorme.
Mais ils y sont arrivés, putain ! Ils ont fait mieux que « Something Start Here » !
Tu l'avais compris, cet enregistrement n'a quasiment pas de défaut. C'est juste un énorme coup de poing dans ta gueule. Une bouteille de whiskey crade mais pleine balancée dans ta tronche. Un glaviot bien lourd sur le comptoir du bar le plus mal famé du Sud. Une paire de burnes sur un ampli Marshall.
Les OIL CARTER, sans compromis, font une musique sans ambages, sans fioritures et sans prises de têtes, en restant eux mêmes et putain, c'est ça qui est bon !
Note 19/20