Sir [Headache] (les crochets n'ont pas l'air obligatoire, mais dans le doute...) est un combo de Dark Rock Alternatif à la croisée de Radiohead, Placebo ou le travail le moins nerveux de Marylin Manson. Monté par un Sir Donatien (ex Tooch) vite rejoint par le batteur Daizy Von, le groupe qui aime choquer de par son androgynie savamment cultivée est localisé dans une fourchette géographique allant de Toulon à Paris. Ca c'est deja de la bonne fourchette.
Le groupe enregistre rapidement un premier opus sincère et authentique, « A Juicy Point Of View »,
masterisé par Andy Walter au Abbey Road Studios, qui sort en 2009.
*****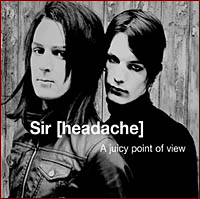 Arf, moi je vous le dis, le difficile métier de chroniqueur musical est d'autant plus ardu qu'il n'est reconnu, encore plus quand le dit-chroniqueur en question est censé rester dans une sphère culturelle bien fermée. Je vais demander une augmentation au rédac-chef moi, tiens. Hop, je m'ouvre une bonne chimay pour le coup.
La raison de mes lamentations ? La découverte des Sir [Headache], un combo oeuvrant dans le rock alternatif plus proche de Placebo, d'AqME ou de Radiohead que du dernier Slayer. C'est sur qu'on s'éloigne un peu du Métal (de pas beaucoup, dirons les plus ouverts) mais si c'est pour faire de chouettes découvertes, moi ça ne me dérange pas.
Recentrons-nous donc. De quoi s'agit t'il ?
Et bien, comme l'ont compris ceux qui suivent, le groupe produit un rock alternatif proche de ce que peuvent faire les Radioheads, mais surtout comme l'ont fait les Placebo. Nous avons donc à faire à du rock souvent joué à mid-tempo, aux vocaux torturés, peu lyriques, mais en tout cas maitrisés au mieux. De rares envolées de tempos laissent présager que le groupe sait s'envoyer sur scène. Le truc qui frappe assez rapidement c'est le potentiel mélodique que possède le groupe.
Et ouais, la GRANDE force du combo c'est sa capacité à pondre des mélodies pas piquées des vers et assez facile à retenir (« Miss Headache », « Jerk My Flesh », « White Pills », « The Biggest Mistake ») et, à mon humble avis, cette capacité, bien que travaillée et évidente, n'est pas assez exploitée dans le présent opus.
Logique me direz-vous, ce très correct « A Juicy Point A View » n'est que le premier enregistrement du groupe et présage donc du trèèès bon pour la suite, dès que le groupe aura put s'émanciper de ses chaînes, ce qu'il saura évidemment faire comme on le comprend à l'écoute de certains morceaux juste énormes (« The Gossip », « Lady SM », « Jerk My Flesh » (et oui, je décolle pas de ce morceau qui tabasse tout) ou encore l'énorme conclusion du titre éponyme, « A Juicy Point A View », qui illustre juste exactement ce que je disais : une mélodie finale qui déboite gentiment pendant que Sir Donatien exploite à merveille ses vocaux. Un trop court moment dans une compo carrèment bien foutue.
Un opus qui manie a la perfection des ambiances noires et sensuelles, des atmosphères hantées et jouissives à la fois. Authentique et sincère, un album qui livre sans trop d'ambages un univers à la fois structuré et facile d'accès, qui ne demande qu'a évoluer.
Vivement que le groupe montre ce qu'il sait faire, sans chichis, sans se retenir, et là, mes amis, je vous assure qu'on entendra parler d'eux. En attendant, je vous encourage à découvrir cette formation, pour peu que le rock alternatif ne vous repousse pas. En attendant, moi j'y retourne.
Note : 14/20