Salut toi.
Y'a une série dont je ne parle pas assez souvent, c'est bien entendu l'énorme "The Walking Dead", dont le scénario est inspiré par la série de BD de même nom. Dans une Amérique dévastée par une pandémie de Zombies, un homme, Rick, essaye de lutter avec les siens pour sa survie.
Ouais, je te vois arriver. C'est du déja vu. Et bien oui... Et non ! La GROSSE force de la série c'est de proposer un univers tangible, voué au désespoir mais néanmoins encore balbutiant, encore en vie, ou en tout cas en train de se relever. En effet, à l'image de son héros, Rick, la série est un énorme souffle de positivité, de combativité où la vie est primordiale, quelque soit ce qui la véhicule.
On pardonnera ainsi aux hommes d'être des pourris, des moins que rien car la vie qu'ils portent en leur sein passe avant tout le reste. Le combat de Rick pour les siens (sa femme qui l'a trahi cependant pendant un long coma, ou son fils en priorité) est ainsi salvateur dans un univers qui ne lui laisse pas le choix et où finalement, les zombis sont relégués au second plan derrière le combat pour la Vie, la seule qui vale le coup. Et advienne que pourra au reste.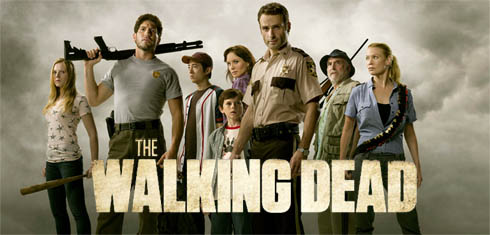 La série est donc énormément positive, contrairement aux autres univers proposant des zombies. Autre force de la série, son réalisme qui fait que n'importe quelle situation est réellement tangible. J'en prend pour exemple cette énorme scène ou Rick et un de ses compagnons doit traverser une horde de zombie couvert de chair et de sang pour ne pas se faire remarquer. La même scène existe dans Shaun of the Dead mais là... Tu te chies dessus. Cultissime !
The Walking Dead est donc une série déjà culte et énorme (la conclusion de la première saison est juste un peu faiblarde par rapport au reste de la saison, mais la seconde saison commence sur de tels chapeaux de roues qu'on pardonne bien volontiers aux scénaristes), dont la première saison est d'ores et déja dispo en France en blue-ray et Dvd.
A voir donc.