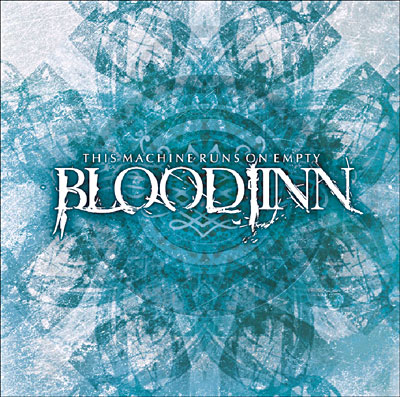 Formé en Aout 1999, «
BLOODJINN
» nous offre aprés -parait t'il, vu que je ne connaissais pas cette formation - moult changements de line-up et de multiples enregistrements ce «
This Machine Runs On Empty
» à la cover perturlurée dans un style qui me rappelle les fresques orientales.
M'enfin, le nom du groupe y est peut être pour quelque chose, faut dire. Hop, une Kwak pour m'écouter ça.
Parce que niveau musique, on est quand même loin d'
ORPHANED LAND
. En fait et pour tout dire, la musique de
BLOODJINN
lorgne plutôt du coté Hardcore Power Violence de la Force, c'est a dire -et il faut bien avouer que cela arrache les tympans, jeune padawan – un massacre en règle, a grand coup de riff ravageurs, d'envolées ultraviolentes de batterie et de chant déchiré, oscillant parfois entre la guttu bien grasse («
Break The Silence
», «
A moment of Clarity
») et un chant proche du screamo («
Inhale Exhale
», «
The Unloved
»).
Si les riffs et la batterie sont sans concession et offrent vraiment des moments de bourrinage intenses («
This Machine Runs On Empty
») il faut bien avouer que la formation américaine manie à merveille l'art de l'intro qui poutre la cheutron a ton petit cousin Martin («
Thruth Within
», «
Break The Silence
», «
Mirrored Human
», «
The Unloved
»), rappelant parfois certains morceaux de
SLAYER
(nottament le travail qui a été fait sur «
Divine Intervention
»).
Il faut noter que les morceaux de
BLOODJINN
laissent aussi deviner à plusieurs reprises un certain sens de la mélodie «
Thruth Within
», «
This Machine Runs On Empty
»).
Mais surtout, la structure des compositions de la formation est bien plus alambiquée que d'ordinaire dans ce style («
In The First Degree
», «
This Machine Runs On Empty
», «
The Unloved
»), la formation nous assénant parfois de bridges très planants sortis de nulle part ou de break ravageurs, et cela est drôlement efficace, on en reste rapidement sur le cul surtout que le vocaliste
Joel Collins
redouble d'effort, de haine et d'aggressivité pour vous laisser a terre.
Un opus très intéressant, que tout adepte du genre se devrait de possèder dans sa discothèque.
BLOODJINN
gagne réellement a être connu, et si vous n'êtes pas encore au courant de son existence, préparez vous a l'assaut d'une formation débordante d'énergie, de vitalité et d'énergie destructrice. Et franchement, ça dénoyaute les couilles mais ça fait du bien.