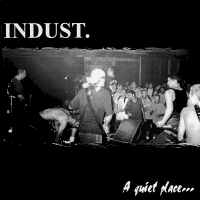 Sur du noir et blanc, une photo de live inaugure l'opus. L'intérieur lui, est bien plus parlant.
Messieurs, mesdames, INDUST est dans la place !
Entre une avalanche de clichés pris n'importe quand et comment, l'auditeur aura la surprise de déballer une page de journal, le INDUST's NEWS. En effet, la formation aura choisit cet artifice pour mettre en avant les paroles de ses compos. Un petit clin d'œil au « Lies» des GUNS AND ROSES probablement, mais qu'importe, la surprise est efficace.
Aller hop, je m'envois une Barbar pour m'écouter ça.
D'entrée, les INDUST marquent le coup en proposant des riffs puissants flirtant avec Slayer ou Hatebreed. La voix du chanteur de l'époque, Radzul, n'est pas sans rappeler celle de Nations On Fire . Avoisinant parfois le screamo sans trop en user, elle manque parfois –a mon sens- de puissance dont font preuve les riffs et la rythmique en arrière. Le phrasé est, lui, typiquement HxC et lorgne du coté de SICK OF IT ALL ou d'AGNOSTIC FRONT.
La production est vraiment bonne pour un premier album, elle sert a merveille la puissance écrasante du groupe. Notons aussi que la tracklist est impressionnante pour un premier opus (14 titres, ce n'est quand même pas a la portée de toutes les formations).
La musique, à mi-chemin entre le Thrash et le punk s'emballe parfois, (« Fake », « CheckMate») et certains morceaux proposent des bridges assez percutant qui pète la tronche de mon cousin Martin (« R.A.P.E »), mais la plupart des morceaux servent l'efficacité du groupe, son honnêteté et sa volonté de tout livrer d'un bloc (« Dissoci-Hate », « Fuck Your Education"). D'ailleurs les compositions s'enchaînent a une vitesse folle, souvent rattrapées par des chœurs de groupe qui scandent –en général- une phrase bien efficace (« This Difference is what MAKE US STRONG ! » sur « Difference »).
Mais c'est sur «Legitimate Pride » que le groupe explose littéralement, maniant a merveille les riffs thrash et les airs punk, ce qui deviendra le fer de lance de l'énorme album suivant, « On Evil's Right». Un riff lourd, un chant hurleur et l'explosion punkisante suffisent a hisser ce morceau au sommet dans la tracklist de l'opus. Si bien qu'on passerait presque a coté de la reprise des FINAL EXIT, « Not A Punkrock Song ».
Au final, je conseille cet album a tous les fanas de Hardcore (s'ils ne l'ont pas déjà). Un condensé d'honnêteté furieuse, d'envie de tout casser et de bonne humeur a se mettre sous l'oreille, en attendant d'écouter le fabuleux, l'immense, que dis-je, l'incontournable «
On Evil'sRight
».
Note : 15/20